CAAMS concludes training course on Post-Harvest Technology for Uganda
Image: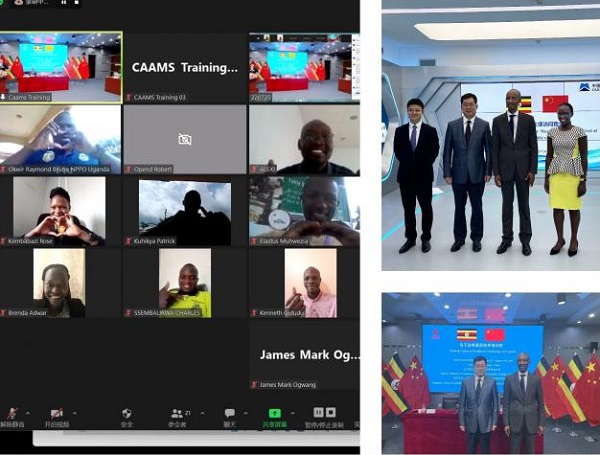 Ambassador Fred Mugisha, the Deputy Ambassador of the Embassy of the Republic of Uganda in China has today attended the closing ceremony of a Training Course on Postharvest Technology for Uganda organized by the Chinese Academy of Agricultural Mechanization Sciences Group Co., Ltd. (CAAMS)held at CAAMS headquarters, Beishatan Deshengmeng Wai, Beijing.
The Deputy Ambassador, who was accompanied by Ms. Doryn Negesa the Economic Research Assistant at the embassy, was received by Mr. Qu Dawei Vice General Manager, and Mr. Ma Teng the General Manager of the International Cooperation Center while Ms. Jiang Jiqing the Economic and Commercial Counselor from the Economic and Commercial Office of the Embassy of the People's   Republic of China in the Republic of Uganda attended on behalf of the latter embassy.
The course was conducted from July 25th to August 14th organized by the Chinese Academy of Agricultural Mechanization Sciences GroupCo., Ltd. (CAAMS) and sponsored by the Ministry of Commerce of China, and attended by 19 agricultural specialists and technicians drawn from various departments of Ministry of Agriculture, Animal Industry and Fisheries of Uganda, National Farmers Leadership Centre, Koboko District Local Government,and Bukalasa Agricultural College.
In his speech as special guest, Ambassador Mugisha applauded the People's Republic of China for its realization that both our planet and the population living on it are a set of related systems that should constantly work together for mutual interests of survival noting that "Climate change is real and our planet is getting hotter and hotter, the rain patterns are becoming more and more unpredictable- hence making it difficult to produce food to feed the world population that is on an increasing trend" making cooperation in scientific methods of food production, food handling, and management imperative in order to cope with the challenges the world faces. He concluded by thanking both the course participants and CAAMS for organizing this training opportunity.
Mr,Qu Dawei added in his speech that CAAMS would like to take this opportunity to establish a long-term cooperation and development mechanism, and work together to develop the post-harvest technology and more to promote the progress and development of agricultural production in Uganda.
The Chinese Academy of Agricultural Mechanization Sciences Group Co., Ltd. (CAAMS) is a leading enterprise in China's agricultural field.
Aimed at providing efficient support and assistance to the sustainable agricultural development of Uganda and contribution to the promotion of future cooperation between the two countries, this training was organized as one of a series of activities being undertaken to celebrate the 60th anniversary of the establishment of diplomatic relations between Uganda and the People's Republic of China.